One of the textiles that I have found the most inspiration from and have made my most favorite projects are German grain sacks with lettering.  I say they have MADE my projects because, honestly it is the detail and history they provide that MAKE a special finished product.  The execution that I play into in turning them into a usable piece is the small part. This part though I am grateful to have, its an honor to be their keeper for a period of time.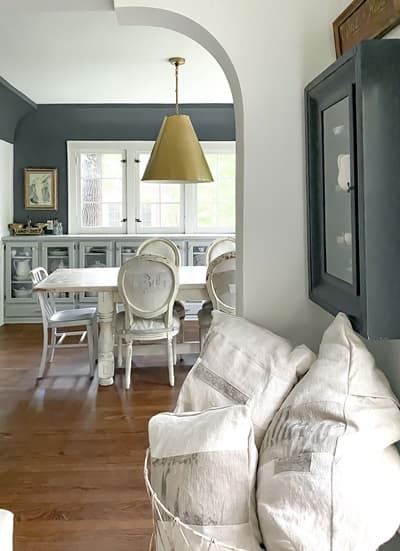 In working with these historic sacks, its my inclination to carefully cut and piece them together with complimenting fabrics.  I understand that this might not sit right with some.  Because how could one cut up something that has existed for 150 years?? But hear me out, and if you still feel strongly, I respect your opinion. But give piece a chance :).   First of all, logistically these sacks are expensive.  The opportunity to get 3-4 pillows out of sack and create something that can bring joy to several households versus just one sack that would be a very, very pricey decor item for one household makes sense to me. Although one can most definitely hang a grain sack, or drape it on a chair, there is something special about a creation that came from these sacks.  My dining chairs that were upholstered from pieces of German grain sacks are some of my favorite things in my house and briing me joy everyday.  I would not appreciate a single grain sack as much.  I have to believe possibly the original owners would be pleased to see these sacks being used and enjoyed.
Now that you have heard my why, this is the process of how: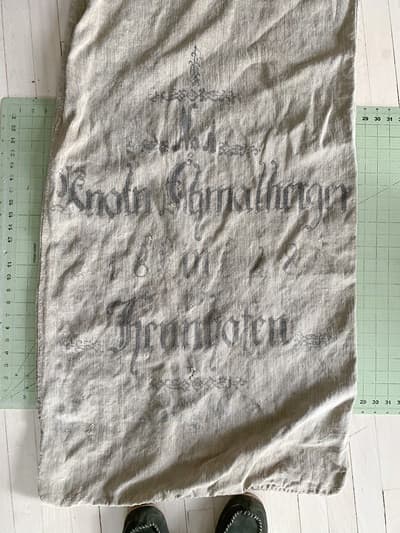 I begin with a grain sack, and visualize what elements compliment each other.  I try not to break up pieces that really belong together.  This grain sack was purchased from the Etsy shop, LaPouyette.  I have purchased from this shop before and would bet I would do it again, she provides unique and beautiful textiles.  If you are ever in the market for German grain sacks, Objekts1 offers some beauties, in addition the owner usually offer plain hemp linen to compliment.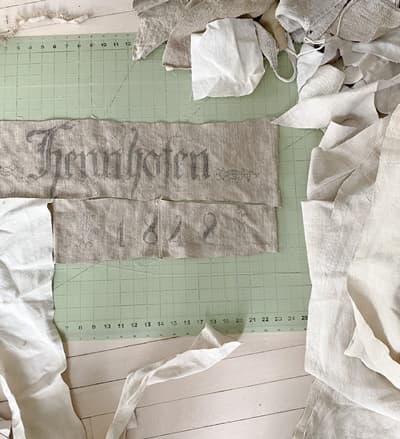 Then I place the lettering on my cutting mat and start piecing in complimenting hemp.  There are no rules here.  I just start adding pieces and see what works.  I have developed quite the stash of pieces of hemp linen over the years of doing this, but that doesn't mean that some who is a beginner couldn't try this out with just one other grain sack.  The natural handwoven hemp all vary, the shades and weaves are all slightly different.  But more than not these natural tones compliment each other.  Often times one side of the hemp is a different shade than the other, piecing these shades together can add dimension. 
This stage gets really messy. Someone once asked if this part drives me crazy, the piecing together part, not the messy part.  I love this part.  This is when I get to be creative, and these fabrics are so good the end result is destined to be good.  Although, yes, I second guess myself throughout the entire time, but in the end when its all finished and on a pillow it feels good.  The outcome almost always puts a smile on my face.
I especially had fun putting together the pieces for this pillow.  It turned into a combination of art/gemometry/history.  I love when these sacks have a little extra detail to the writing, this one had lots of lovely swirlys.  The swirlys deserve to be highlighted!!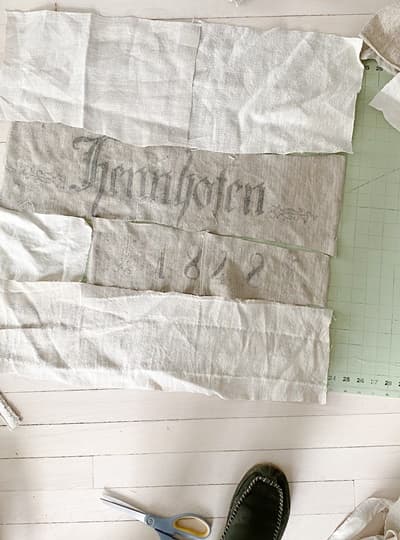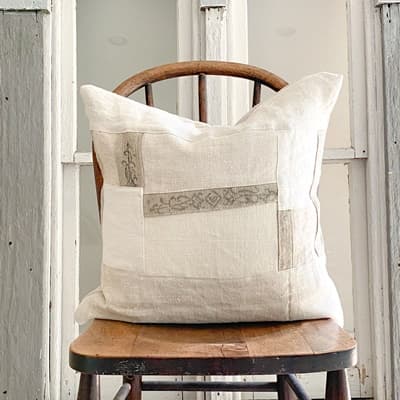 Three of the grain sack pillows that were made from this sack will be for sale during my next restock that I am aiming for next week (the first week of June).  The pillow that I made using the date 1858 is a gift for a friend : (  or : ) if you are that friend.
The idea of piecing fabrics together opens up an entire world of options when using vintage fabrics, not just grain sacks.  Any vintage fabrics come with a finite amount of yardage, and sometimes even the tiniest bit should be used and not wasted.  When I found a fabric nursery rhyme book in an antique shop, I knew its graphics needed to be celebrated.  So in adding pieces of French ticking and hemp, some pretty pillows came about.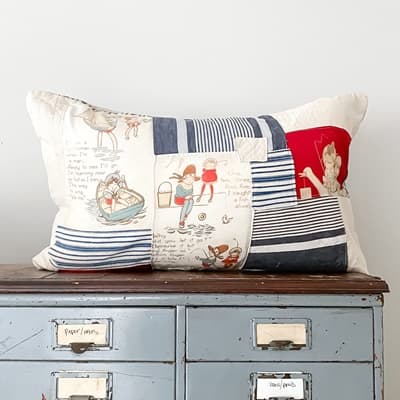 In addition some small remnants of fabrics can be found affordably and its fun to hunt for them.  If you have read any of my previous posts you know I hang out a lot on Etsy.  This post highlights some of my favorite French Etsy shops that provide really magical textiles in all sizes.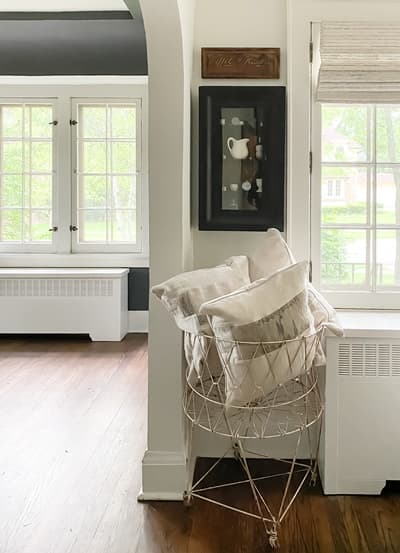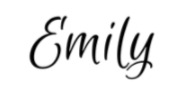 ***This post contains affiliate links that are offered at no expense to you***