The past couple of weeks I have been getting some new projects done to list for this sale that is happening today (purchasing begins at 8 pm CST :)).  One of the projects that is a new one for me is a grain sack mattress cushion.  My friend Jenn, who owns the shop Anthology Home pointed out these sweet French ticking stripe mattress cover cushions that people are using to add to benches and sofas.  When I looked more into them, they seemed to come in a very similar size to a grain sack.  My creative wheels started turning and I tried combining the grain sack with a matress cover idea.  I was immediately pleased with the result.  This sale has three mattress covers listed.  I have fabric for two more, and had hoped to get them made before the sale but I ran out of dacron that I use for the padding.  So there will be more to come…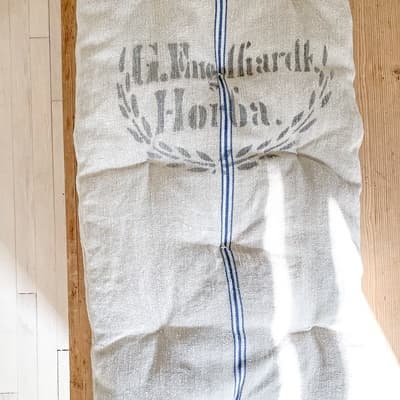 One of these mattress covers is made from one side of an antique French Military sack.  This is a very unusual sack, I rarely see linen sacks that have French writing, except for the postal sacks.  Last month I wrote a blog post about the business owner Wendy who is the mastermind of the shop The Textile Trunk.  I linked some of my favorite listings that she currently had in her Etsy shop.  I kept thinking of this sack that I linked in the post, I really wanted to work with and have a piece of it in my home.  So I ended up purchasing it.  I am fairly certain that this is not how bloggers make money, I am new to this, but hey at least my post convinced myself of the value of the item.  I saved the other side of the sack for a project for my home.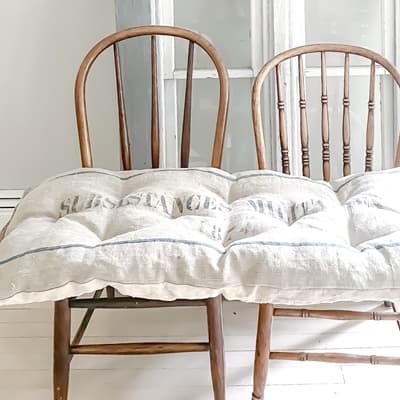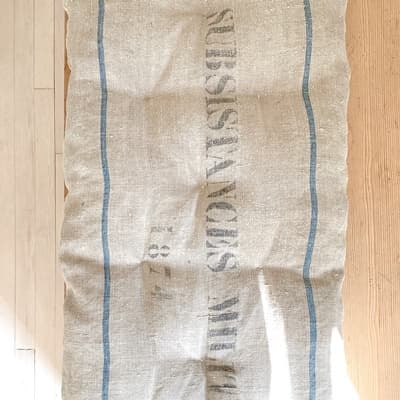 Another bit that came about from the Textile Trunk and my convincing blogging skills are these pillows that have French eyelet lace trim on them from the 1930s.  Now I happened upon this lace in Wendy's shop while I was doing research for my post, had get some, and I do believe she has more avaliable here.  I really love it.  I don't love a lot of ruffles, but this is just the right amount and the light blue horizontal ticking is so charming.  It paired with grey toned vintage hemp linen makes me smile.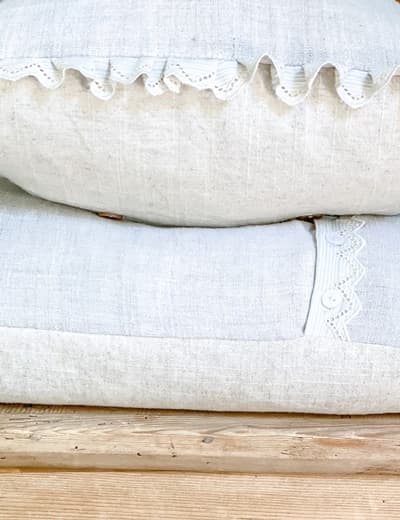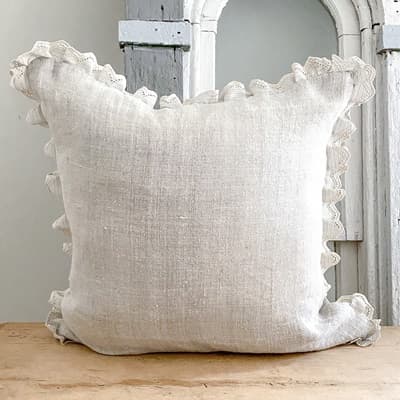 In this sale there are also four pillows that are made from vintage hemp linen with a grey tone and light blue stripes woven through.  The fabric is a bit rustic, but in impeccable condition.  I have never seen these colors together and wonder if I will ever find them again, its a pretty special combination. The pillows are backed with some vintage hemp linen that was dyed a steel grey color that fits perfectly with the front fabric.  Also the back fabric has a great feel and movement to it.  I added three back buttons which make it really cute and it could be turned around and used as the front for a slightly different look.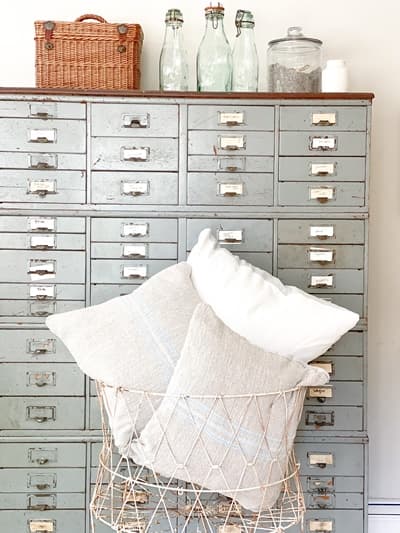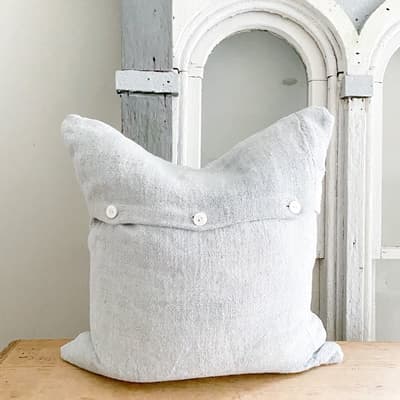 In addition to the German grain sack pillows made from a sack from 1848, that I wrote about here, this sale offers this pillow made from a vintage German grain sack from 1950.  Its unusal to find a sack from the 50s, they are typically late 1800s or early 1900s.  Its print is much more modern but I really like it, it kind of has an art deco look to it in my opinion.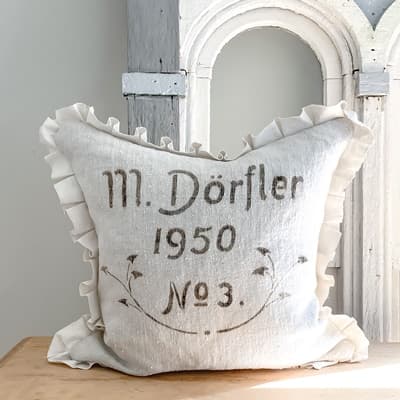 In every sale I put on I always think I will be able to make more products than is actually possible.  My expectation of what I can accomplish and reality is rarely aligned.  But it is all good.  There will always be another Penny and Ivy restock sale.  The items that I had hoped to get to but didn't included a couple of foot stools and some lavender sachets made from extra special fabric.  They will become completed sometime soon and I will of course let you know.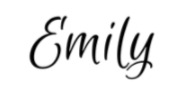 ***This post contains affiliate links that are no added expense to you***