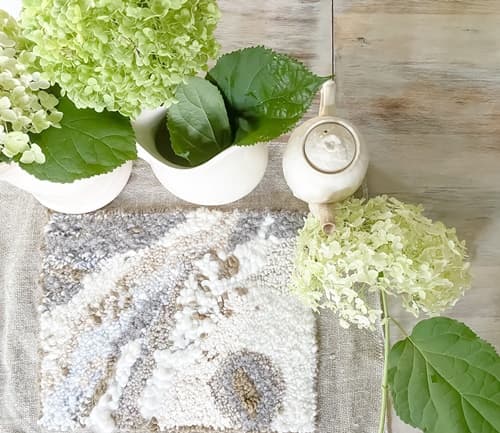 I recently met the artist, Deanne Fitzpatrick through a mentoring group for creative business owners (The Creative Exponent Mentoring Group). We all meet through zoom regularly, it is an added bonus to see a bit of all the creative business owners homes in the background of their zoom squares. Deanne made an impact right away because she was sitting in a room that looked like it was in an attic with angles and white walls and she was surrounded with colorful yarn. She was organizing some yarn in preparation for her next project while engaging with us. It was apparent that her yarn was an extension of who she was. When she contacted me a couple months later and asked if she could send me one of her rug hooking kits, it was an immediate "yes." I wanted to work with the beautiful yarn that I saw on the zoom call. It would be something new, but not completely different than working with fabrics. Maybe.
She sent me a kit to hook a small abstract rug with neutral colors. Just my thing. I am not sure if she researched me or not, but she nailed it with her choice for me.
Included in the package were two of her books she had written. Both approriately titled, one being "Making a Life," and the second being "Inspired Rug Hooking." I am not sure what I expected with the books, probably more of them being in tutorial form as to how to rug hook. Although there are some pointers the books are much more about how Deanne lives her life as an artist. When I opened the the book "Making a Life," I was so inspired artistically and personally. She speaks about how rug hooking is s part of her, and in turn how she learns about herself through the creative process of rug hooking. I loved reading about this in her words. I can relate to some of these feelings that she experiences when creating to what I feel when working with my fabrics. There are pure moments that happen that make me feel like I understand myself the best when I am creating. This is almost never about the final product but about the process. I found inspiration for my artisitic self, but I believe that her words carry over into all aspects of life. She writes of "creating beauty everyday."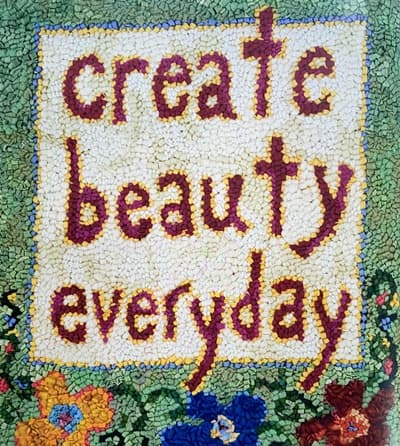 I do think if you are artistic, and really have personal connection with your craft, you find a way to incorporate it each day.  But I also think everyone should pause and realize that they create beauty every day.  This is the great joy in life.  Every day, even the really hard ones can have a bit of beauty in them.  Beauty is created through a homemade meal.  Beauty is created by teaching a child to read.  Beauty is created by sending a note to a friend.  Beauty is created by making sure those around you know they are loved.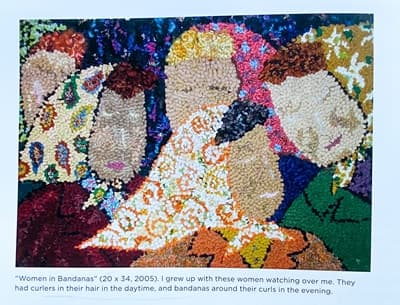 The rugs Deanne hooks are those of her life.  They are display the beauty of the ordinary. And how she sees them. Some of my favorites include scenes of villages with cottages and ones that are women that are clearly friends supporting each other.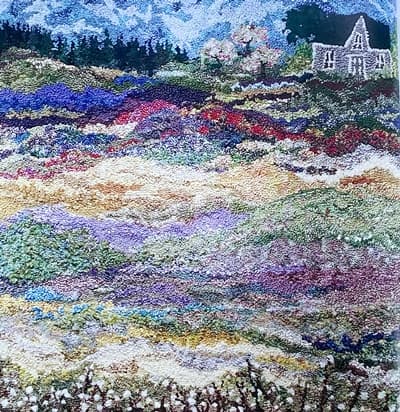 Her art is a creates an experience of seeing how she sees things.  There is a quote from her book "Inspired Rug Hooking," that says "My rugs of houses are picturesque, but when I hook them I imagine the houses as containers for lives, not just pretty scenes."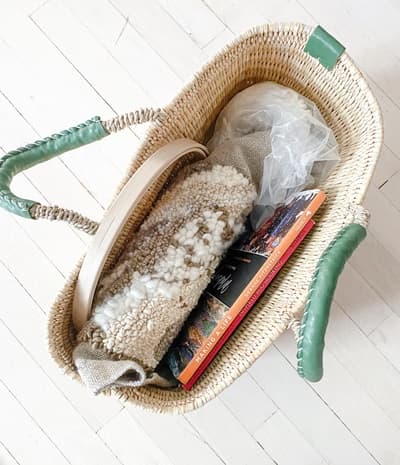 Now I had the opportunity to try rug hooking for myself.  The kit showed up with very little instruction, which is good for me because I get very impatient with reading instructions.  It is a pretty straightforward task.  But I also think that Deanne believes offering minimal instructions gives one the opportunity to find their own creativity through trial and error.   She encourages beginners to approach it without fear of making a mistake.  She has a quote from a friend in her book that says  "there is nothing worse than being afraid when there is nothing to be afraid of." I know it can cripple an creative activity if one is too afraid of making mistake.  I don't think mistakes are bad. Frustrating, yes, but if learned from and help to develop creativity they are good.  I found a quote on her website in the beginner section where she says "There is no right or wrong to hook rugs. Just your way."  There is a lot to learn from having at it and finding your way.  However if you need more instructions or pointers, she provides it.  She does offer courses, including a free beginner course if you sign up for her newsletter (I do like getting her newletter in my inbox, it offers a positive thought and pretty glimpse of her projects).   She also has a weekly Facebook live course.  She is there to assist or encourage anyone to try this form of art.
Admittedly it took me a little bit to get the hang of it.  And during my first couple of hours I thought this is not my thing.  But I ended up really enjoying it.   I did the bulk of the hooking my little rug while I was on family vacation where we spent a week at a beach house in North Carolina with some of our closest friends.  It was really nice to have something portable to work on while sitting on the deck, watching TV, or riding in the car.  It feels good to have my hands moving and made our very, VERY long drive go much faster.  Also it peaked the interest of some of the kids who were on the trip with us.  My friend's 7 year-old, Blythe, took over my rug couple times.  She was very patient and commited to getting her hands working to hook some of the yarn for me.  I left it with her once and came back to a bunch of random olive green yarn hooks throughout the piece.  She was definitnely following her own creative inclinations.  But it was perfect.  I kept them and sprinkled some more random olive green throughout the rug. Its my favorite part.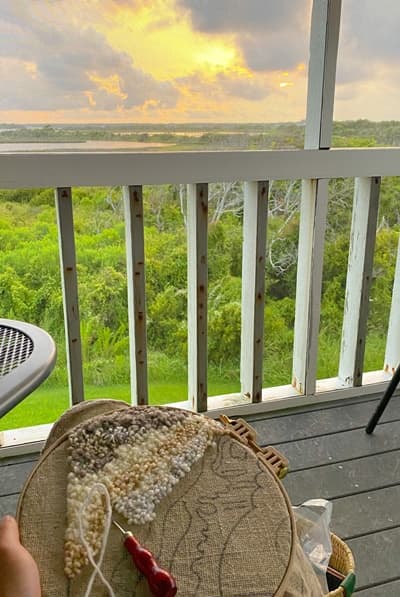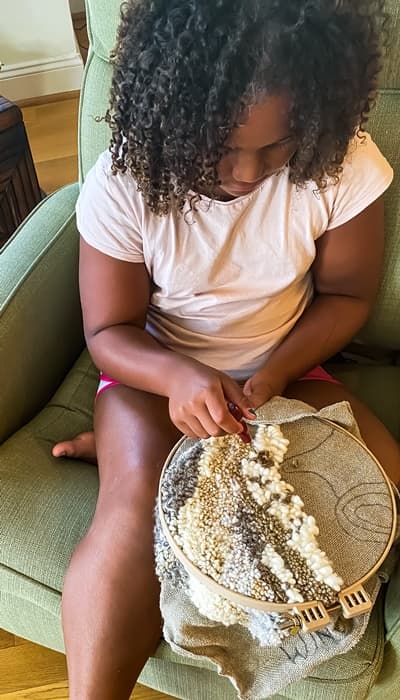 On Deanne's website her shop offers a variety of kits, each one more charming than the last. I am eyeing a couple of them right now, remember how I said intially I didn't think it was my thing, well that has officially changed.    It is great project to pull out for a couple minutes or a couple hours depending on how your day is going. It is a slow project, but relaxing. The kits also require very few tools, which is really nice when trying something new.  Sometimes a new creative venture can break the bank with all the tools required.  
It am certainly glad that my path has crossed with Deanne, it has been an joy learning about her and her artwork.