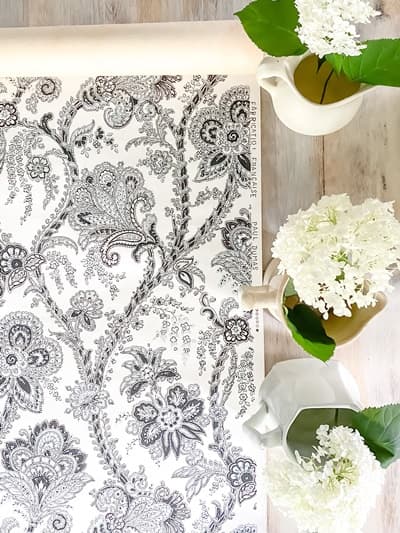 Last week I stopped by a couple of my favorite antique shops to give myself a bit of a breather from all the summer fun and activity that is happening at our house.  There is very little that we need in our house as far as home decor and furniture, but there is always room to change things around if a worthy piece is found.  I was thinking my daughter's dresser maybe needed a change if I could find a good replacement.  I did not find a dresser but I found a couple things that were on my wish list for a long time. I know I can't be the only one who feels like somehow the right pieces find themselves to the right owners.  Or at least a shopper/hunter/picker who wishes for an item and somehow it magically appears when you least expect it.  I found two items on this wish list of mine in one visit to Goodland Antiques. This is not the first time or last the last time this awesome shop delivered for me.  One thing I had been hoping to find was some vintage wallpaper, and boy did they have it.
Several months ago I was inpsired by someone I was following on social media who was renovating their house and found some remnants of antique wallpaper.  She spoke about possibly framing a piece.  This got me dreaming of having a gallery wall pieces of antique and vintage wallpaper.  I started searching for vintage and antique wallpaper on Etsy and eBay, I have found only a couple listings and none of them were the style I wanted.  So when I unrolled a bit of a roll of vintage wallpaper that I found at Goodland Antiques and saw the beautiful black and grey design there was no thinking, it was coming home with me.  I could tell there was a lot of it and I thought I will bring it home and I can use it for wrapping paper or a table runner for a special occasion. I was very excited about my find.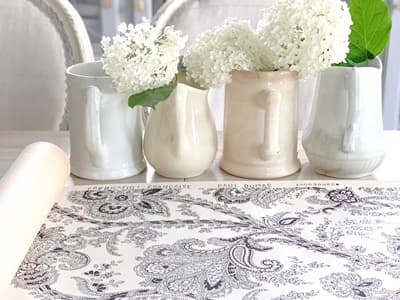 When I got it home I unrolled around 8 feet of it, and I could not believe my eyes, it was so pretty.  It was in my colors too.  And created by the French designer Paul Dumas and I love that it is written on the side.  Also there is texture to design, I think the paint might have been stamped on or possibly hand painted.  If anyone knows anything about how they printed or painted wallpaper, I would love to know more, please send me a note.  According to my internet research it looks like this is probably from the 1920s.  All of these details made me love this find so much more, but they also made me feel a little anxious.  Because this is first wallpaper find for me, and I haven't ever come across anything like it I felt a lot of pressure to not make mistake with it.  What if this is my one and only opportunity to own this special paper like this?? But this is not rational, of course I will find something amazing and unique again, but this felt really special.   However I do believe if you need/want/desire vintage wallpaper to decorate with too, it will find its way to you too:).
First I knew I wanted to display it in my house somehow.  I thought about our bathroom, but then realized it would fit perfectly above our nightstands in my bedroom.  It would have been nice to hold out for some large matching vintage frames to use, but I wanted it up ASAP, and also my house has some contemporary elements to it so I just chose these simple affordable frames from Target.  I also love that they are clean and don't detract from the wallpaper.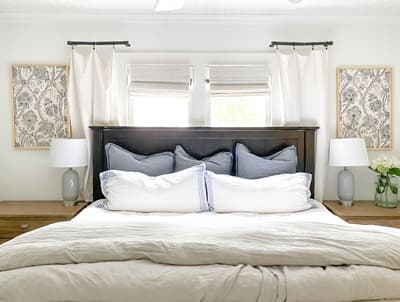 As what to do with the rest of it, it is NOT going to be used as wrapping paper or a table runner…I am going to wait for a bit until it feels just right.  I know it would be amazing lining the back of a cupboard, using it for a book cover, or for creating a special notebook or sktechbook like my friend Toni does for her Etsy shop, Foolhardy Studios. The possibilities are endless.  I will probably sell off some pieces in the future, I think rolls of it would compliment a Penny and Ivy booth perfectly.  In my wildest dreams I would love to own a studio space one day that I can open up as an occasional shop, and this wallpaper would be front and center in my creative space.  I hope you find whatever it is on your want list when antiquing soon!