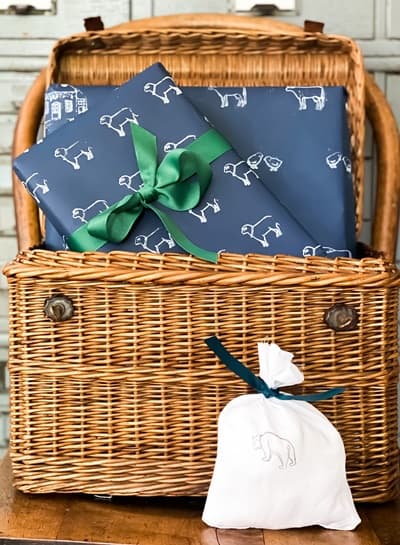 Several weeks ago I found a vintage alphabet stamp set at an antique shop and scooped it up right away, I love anything that is associated with old typography.  I didn't buy it for the purpose of using it, I thought it would be a nice display.  But when I got it home I started to think of all the cool things I could use the stamps to create, unfortunately the rubber of the stamps were very, very dry.  I have tried to revive them, I will tell you all about it in a bit…
Then in just a couple of days after my first stamp purchase, my friend, Jenn (who I refrence all the time, because she is worth all the refrencing) listed a this vintage stamp set in her shop, Anthology Home.  So I bought it, because I had no choice, all those vintage animals are so cute. And the rubber on the stamps are in perfect working condition which was very good news.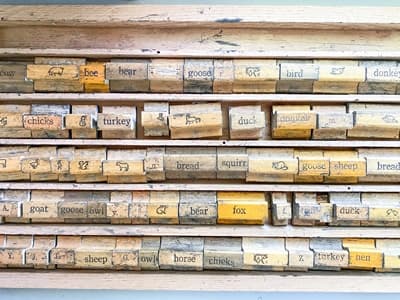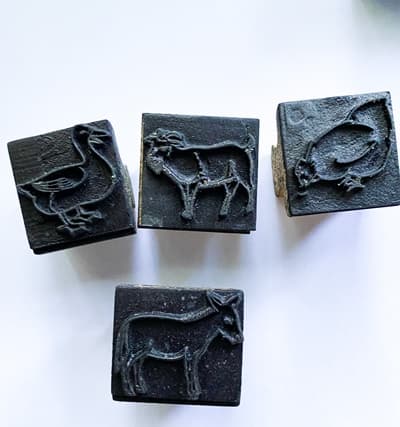 This has to be one of my very best purchases recently.  My youngest daughter and I have spent hours creating with this set. It has been really fun to make wrapping paper, cards, and fabric sacks.  I now have a dream of desigining wrapping paper professionally. I just thought I would put that out there in case anyone knows someone who knows someone.
To make the wrapping paper I purchased this matte wrapping paper from amazon.  I also got a variety of stamp pads that included this white one. I really liked the white color on the dark paper, but it takes a while to dry, I had the best success when I let it dry for several hours and then carefully blotted some spots that needed it.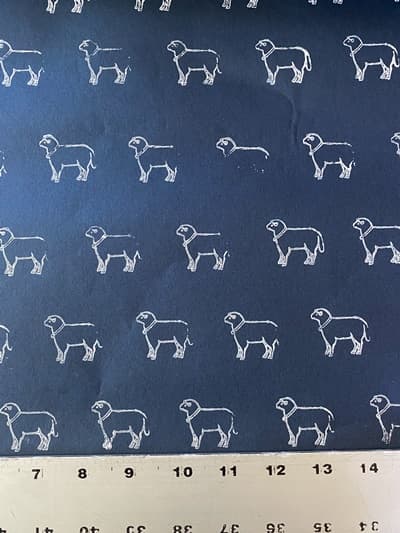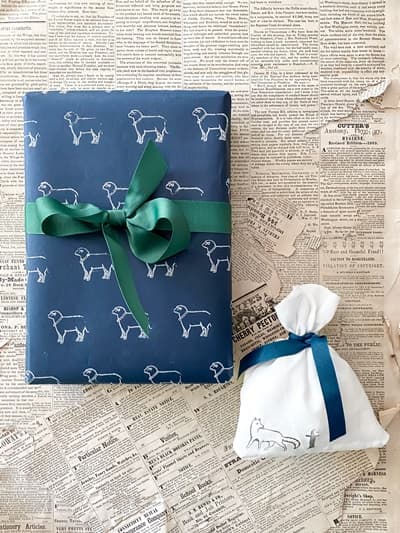 Once I tried to rush through the drying step with the white ink and the finished product was not awesome.  I do like that there are imperfections with stamping and sometimes the entire impression doesn't take.  But with this try, that I have pictured below, has too much smudging for my taste. As with anything DIY, its a learning process and always incudes a reminder that paitence is a virtue.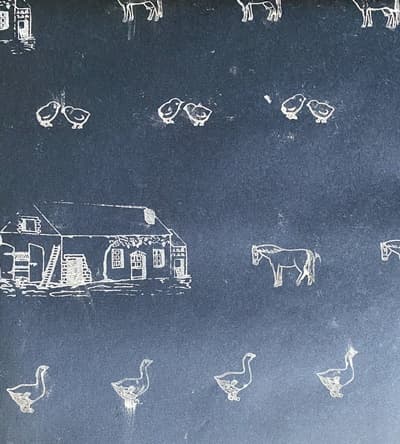 If you don't want to mess with any dry time, I found the black and muli colored stamp pads that are made for mixed media seemed to dry much faster and were easy to use. I should note its handy to have some stamp cleaner available, this did a decent job, but I found that glycerin does a better job when the stamps need a really good scrub.  
I loved that the mixed media stamp pads work great on fabric.  I had some lightweight white fabric that absorbed the ink perfectly.  This opens up and entire world of projects…gift sacks, lavender sachets, pillow covers, you name it.  Or possibly for tiny Christmas stockings, here is a tutorial for them if you want to check them out, imagine adding some sweet images from stamps.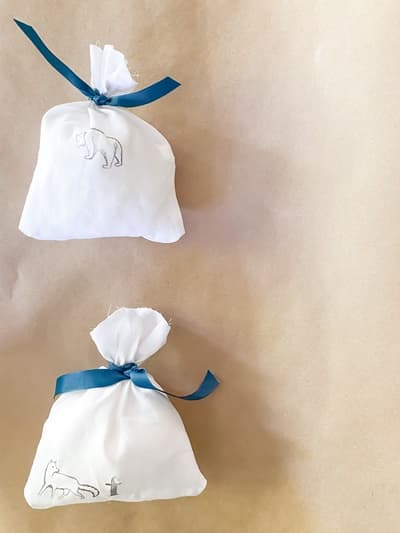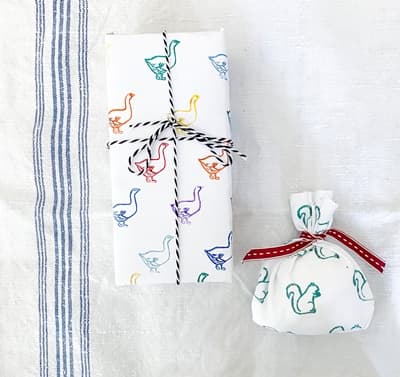 Since I am a  vintage stamper now, I have to include stamp shopping when I check out Etsy. Here is a link to my successful search. There are many great options. Maybe don't start shopping unless you are prepared to buy. Or maybe your willpower is greater than mine and you can window shop all day long. But a litte browsing led me to buying this French cottage stamp for me.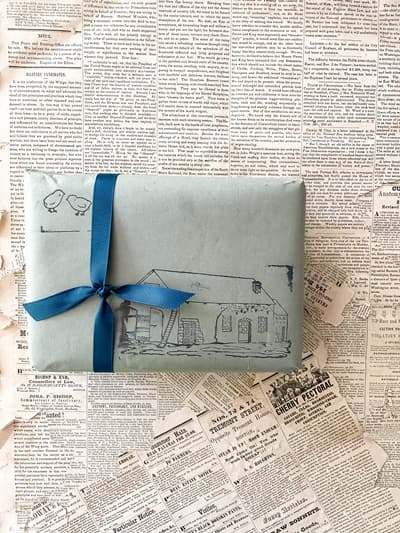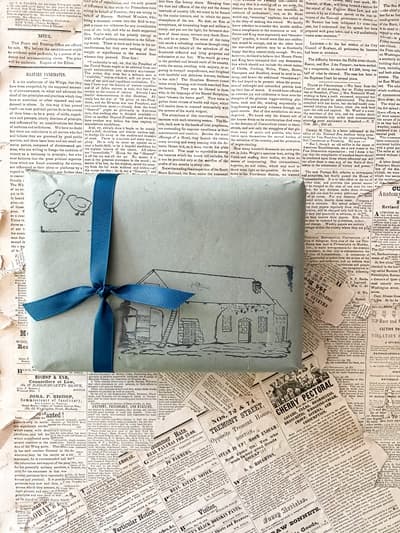 Today as I was just checking out the inventory on Etsy I found several that would create some really sweet projects.  Like this set of French vintage stamps that has garden scenes.   This large alphabet set that looks like it is in great working order.  Then this is a smaller set but has a variety of great images. The Etsy shop, French Vintage Retro often has a great selection of school and embroidery stamps.  Also its a fun experience checking out what else this shop has to offer, I do it often :).
 My advice when shopping for vintage stamps online, if you want to buy in order to use them, I would look for listings that have pictures of the impressions that the stamps make.  Like I mentioned before the rubber in these old stamps can get dried out so they don't work very well, like my alphabet set.   I did some research on this, and the consensus from the internet is that its possible to bring these stamps back to life if you soak them in glycerin overnight after a light sanding.  Some people raved about it.  My dried out stamps have been soaking for a couple weeks now, I have seen some improvement in some, and very little in others.  I think they might be too far gone, but that is okay, they are still cute and I will find a use for them.  Here is my letter "A" that I have been experimenting with using after different periods of time in the glycerin soak, you can see results have not changed much: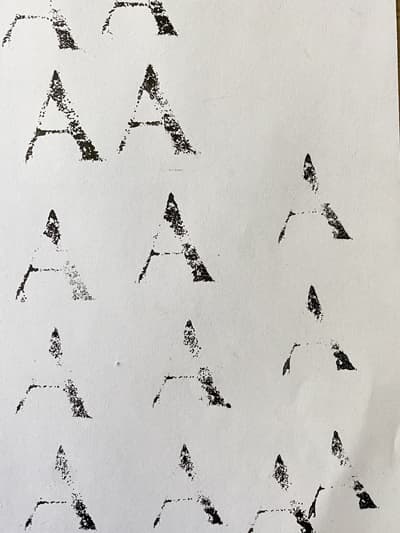 Thanks for stopping by and have a great day!! And let me know if you catch the stamping bug, I would love to see your projects, send me a note pennyandivydecor@gmail.com or through Instagram.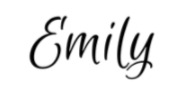 ***This post contains afflilate links at no additional cost to you***