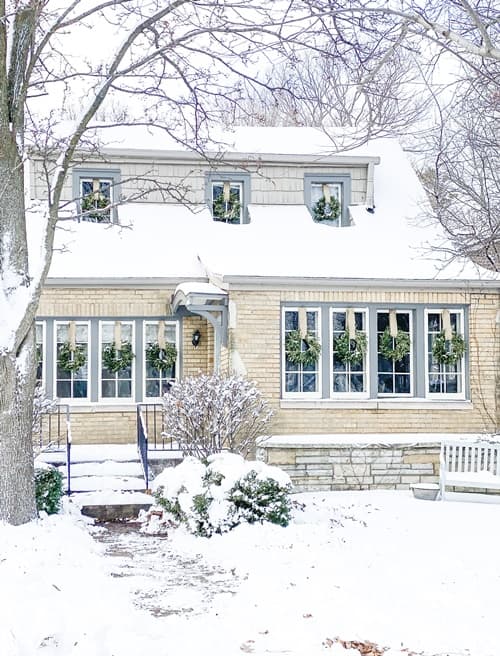 This past summer we completed a 5 month long remodeling project on our home.  This was basically our first experience making big changes to a home.  We did have to remodel a bathroom that flooded a couple years ago, but aside from that any of the changes we made to our houses were limited to very basic comestic upgrades with paint and lighting fixtures.  We have relocated several times with the company that my husband works for and for ease of adjusting to a new location we have always picked houses that don't require work.  That all changed with this move, and because I am so pleased with the outcome I might be looking for another project next time we move.
We relocated from Raleigh, North Carolina to the Milwaukee area in the summer of 2019.  In Raleigh we lived in a beautiful planned subdivision that had parks, a neighborhood pool, running/biking paths and newer homes with lots of square footage.  We loved it there and had carved out a happy life.  I remember the day when my husband was approached about a position in Wisconsin and driving onto my street feeling so sad that I might be calling this home much longer.  But over the next couple months as the decision to move and give my husband this professional opportunity evolved we decided it would be best for our family.  When he interviewed for the position I came with him to scope out the area.  If you do any amount of internet research about good family neighborhoods to live in Milwaukee you will find that place we landed, a walkable historic neighborhood right on Lake Michigan that is a 10 minute drive to downtown.  This neighborhood was my first stop in exploring the area and I fell in love immediately, it made the idea of moving a little better.  The houses are old, but very charming.  The lake was a beautiful backdrop to local playground.  I grabbed lunch at one of the resturaunts in the neighborhood and there were a couple girls ahead of me in line who were about 10 years-old buying cookies at the bakery, I could see that they had just biked there.  I was sold on this kind of life for my family.
Fast forward a couple months later when it was time to house shop. We looked at many different houses in many different areas.  Eventhough I knew where I wanted to live, my husband wasn't as convinced.  Also it is always wise to look at all options, you never know.  But house hunting was eye opening to say the least.  I believe every location has its own real estate culture, that includes the difference in the style of home down to what is expected in a real estate transaction.  We looked at newer suburban homes that would be similar to what we had in Raleigh.  They were nice, but different than what we had.  But not different enough.  In the end we decided that by doing something totally different in neighborhood and house it might make the transition easier. That way we wouldn't always be comparing it to what we had in Raleigh.  So we committed to finding an older home in the village of Whitefish Bay. We decided to trade a big kitchen island for quick walk to school, an attached garage for living by Lake Michigan, and a master bathroom for the charm of an old house.  
But with an old home that meant a remodel of some sort, any homes that were completely remodeled were out of our price range.  To further complicate finding a home that didn't need any work the real estate market in our then desired neighborhood is insanely competive.  There was no option of taking a weekend and shopping for the best 4 bedroom 3 baths house avaliable.  It would be a miracle if there was even a house that met those standards in our price range on a random weekend, let alone a selection of them.  Houses generally come on the market on Tuesdays and are gone in no time if they are good ones, and priced right.  So we waited with bated breath, talk a lot to our awesome realtor, and made many quick trips up to Milwaukee, and realized we had to think outside of the 4 bedroom 3 bath box.  I love looking at houses, but this way of living and with life up in the air got old real fast. Obviously we eventually bought a house, but it was after getting outbid in the 11th hour on a house I really loved, but the one we ended up is better in a lot of ways.   The house we bought had come on the market a month or two before, the pictures were very cute, but I discounted it because I thought it would be too small for our family.  It sold immediately anyway, and later I found out had 8 offers.  But when that sale fell through our realtor encouraged us to consider it.  At that point we would have bought it sight unseen, I wanted an address, its hard to make plans for kids without an address.  The pictures were really nice, the previous owners did a lot of updating and I loved it all, it did seem cozy, but doable, and it was in demand. Our relator said the worst thing that could happen is if ended up being too small we could put a for sale sign in the front yard and have no trouble reselling. Everything fell into place travel wise and I was able to fly out the next day to take a look.  But the house sold again in a couple hours.  Eventhough it was under contact they still let us tour it and my husabnd and I both felt really good in the house, we decided to write a back up offer.  
Luckily we got the house.  But now we were cutting our square footage in half, and ending up with 2 small bathrooms compared to the 6 (six is really too many bathrooms in my opinion) we had before.  We could try to live very cozy, but ideally we wanted to add a bedroom and bathroom somehow, so that brings us to the remodel. Under the reccommendation of our contractor we decided to add a legal bedroom in the basement with a egress window and a bathroom.  We thought of possibly adding onto the back of the house but with regards to time and money the basement made the most sense.  We also decided to include some other projects to the remodel to make the most of the house for our family.
I really loved our contractors, for those local, we used MKE Design and Build.  They did a quality job and stayed very close to the time line.  They also worked hard to stay in our budget.  They intially gave us a rough estimate, then over a couple of months we made more detailed plans, picked finshes and of course adding some more items to the project. We naively thought that none of these add ons would make that much of a difference. Wrong. When we got our final quote it was well over 50% of our intial quote. That was rough day. There was no way we could afford it and even if we could it wouldn't have been smart for resale.  But our contactors were amazing.  They sat down and went through everything with us and found ways to cut the cost.  We didn't completely eliminate anything, we just did things differently.  In the end I am so pleased with it all and don't feel like we missed out on anything or compromised on quality.  As I go through the write ups on the remodeled spaces I will point out the changes we made to save money.  
I am now most attached to this house compared to any of the four other houses we have owned in the past.  There is something about putting your own stamp on a space that feels so good, and it really was a good house to begin with. I think the changes we made turned it into a very comfortable home, which is especially important since we have spent so much time at home this past year.  But I should tell you, my husband misses his McMansion everyday : ) .  He loves big and new.  I like old and cozy.  But it works.  He is happy and will tell you in same breath how much he misses his master suite that he loves being a short bike ride from downtown.  Moving is never about even trades, but there are always good things.