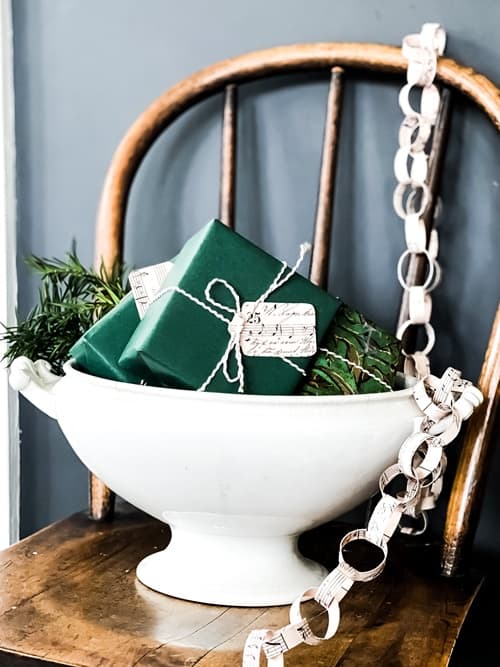 During my history of searching for treasures I have found some pretty special handwritten letters from dating over 200 years ago.  I believe the handwritten script is a piece of art.  Recently a friend who knew me well discovered these antique handwritten Swedish sheets of music in an antique store in Massachusetts.  They are stunning.  Lucky for me, she brought me back a pile of them.  I am certain the orignal composer never imagined someone using them to make holiday decor.  I hope that this is a celebration of their beauty and work that went into the pages.  I am really enjoy the charm and history they add to my home.  I got several projects out of just four pages of sheet music.  
PAPER CHAIN
First up is the good old fashioned paper chain.  I haven't made a paper chain since elementary school, but they made an impact that has lasted decades.  A paper chain for elementary kids in the 1980s was most definintely THE project.  This chain used two 8 1/2  X 11 inch pages and ended up being nearly 10 feet long.  I cut approximately 1/3 inch strips along the 8 1/2 inch side.  Then cut those strips in half, so the strips ended up being about 1/3 by 4 1/4 inches.  Next I weaved the chain together,  and I secured the links with a glue gun, but if my memory serves me right a stapler or tape or a glue stick will do the job.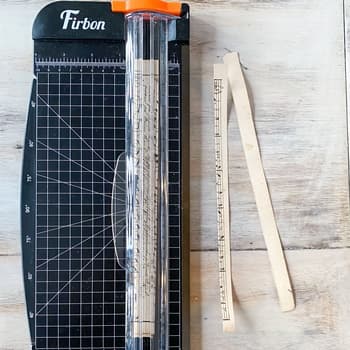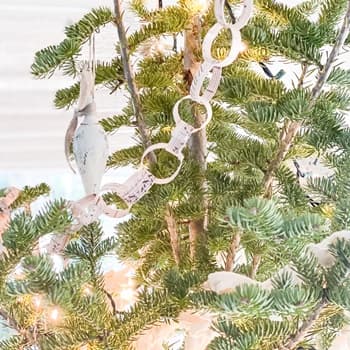 FRAMED ORNAMENTS
I love framing these antique pages. I have two larger frames with antique French letters displayed.  They are some of my favorite things in my home.  Having a couple of small frames with these music pages naturally seemed like their destiny when they landed in my house.   I had these small frames that I picked up at Goodwill and I am really happy about what they add when tucked into my garland.  Another idea is adding ribbon to the back to make an ornament.  I did add a little stamping to a couple for a little extra.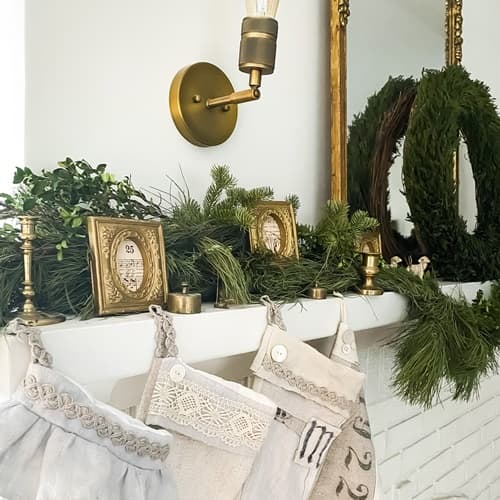 ORNAMENTS & GIFT TAGS
For the ornaments, I used a paper punch similar to this one to create a cut out.  Then punch a small hole at the top. Finally tie a ribbon or string through the hole or adding paperclip(another trick I learned in Elementary school) to hang the ornament and you are DONE.   They are great with or without some stamping, you decide.  
For the tags I just traced a gift tag that I had on hand, but this tool would come in handy if you are going to make a lot of them. I love the detail they add to wrapped gifts.  If there was ever a time to have fancy wrapped gifts, I think 2020 is it.
I hope this helps give you some ideas for easy projects.  If you are antique shopping and find some pretty old papers and the price is right…GRAB THEM!! There are so many pretty uses for them.
Also speaking of pretty paper, the wrapping paper with the design was purchased through the artist, Jennifer Lanne's online shop.  She does inspiring work and sells them in many forms.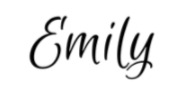 *Disclosure: This post contains affiliate links at no additional cost to you.*