I am not the most organized person, I am not the least organized person either.  But if I classify myself I would land closer to the least organized person group.  Almost everyday I wish that being organized came a bit more naturally to me.  Just like everyone else there is a lot that I need/want to accomplish in a day.  Included in that need is a bit of rest, otherwise I become worthless.  Please know that if you are reading this, and are one of my customers, providing timely, organized, and a pleasant shopping experience is one of my greatest priorities. That will always, always be at the forefront of my mind 🙂 
I don't know what organizational classification that you fall under, but know all should be celebrated, there are strengths in everyone's approach to their day.  Anyway, I have discovered a couple things that have made my life a bit easier in helping me accoplish my to do list that I thought I would share. 
First off is an incredibly easy dinner recipe. It is not a summery recipe, but it may come in handy on a rainy day.  It is Trader Joe's Chili with Cornbread baked on the top.  Its not 100% homemade, but its very yummy and takes less than 5 minutes of prep work. I learned it years ago from one the Trader Joe's sample tables.  My family loves it.  And a funny thing happened with this recipe…so one Easter a couple years ago I threw I big dinner for friends and as I was cleaning up my husband turned to me and said "I have to bring chili tomorrow to work for our chili cookoff"(reflecting on this story makes me think maybe the people I live with affect my organiztion 🙂 ) First of all my husband doesn't make anything besides pancakes (he has many other talents), second it wouldn't have been good if he didn't participate, and third I was tired of cooking and just tired.  So I whipped up this recipe. We (Trader Joes included) won second place.  Was it my most proud moment? Nope.  But it just goes to show what a good recipe it is.  
Here are the instructions to make this award winning recipe:
      Ingredients:
     -4 cans of Trader Joes Turkey or Chicken Chili (I have used both and both are good)
     -1 box of Trader Joes Cornbread Mix
     -1 egg
     -oil
    -milk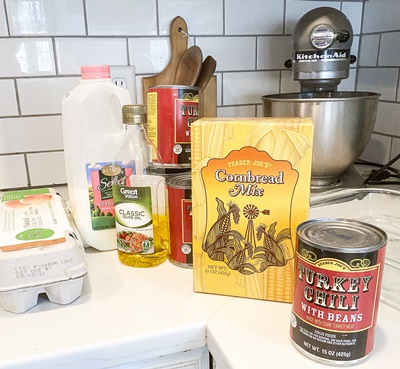 1) Spread chili on an 9 by 11 inch pan
    2) Mix cornbread ingredients as instructed on the box
    3) Spread cornbread mixture over the chili
    4) Bake chili/cornbread pan according to box instructions.  I have noticed it takes 5-10 minutes longer than    the instructions to bake in my oven likely due to the chili.  So keep an eye on it.
     5) Let it cool and serve it up with some cheese and sour cream.
Another thing that has helped me so incredibly much is ordering groceries.  Maybe I am the last person in the world to start doing this, so my apologies if this old news.  But its amazing.  It saves me so much time wandering the aisles trying to find things. It helps avoid me on a bunch of random trips to the store. It keeps me organized in having ingredients for dinner on hand.  My routine (and yes it doesn't happen EVERY week, but when it does I have a smoother week) is to make a dinner menu on Sunday for the week and sit down and take 20 minutes to order my groceries.  I am usually able to get the 7 am Monday morning pick up time slot, so I run over to the store first thing in the morning and have fresh food for packed lunches before my kids head out for the day.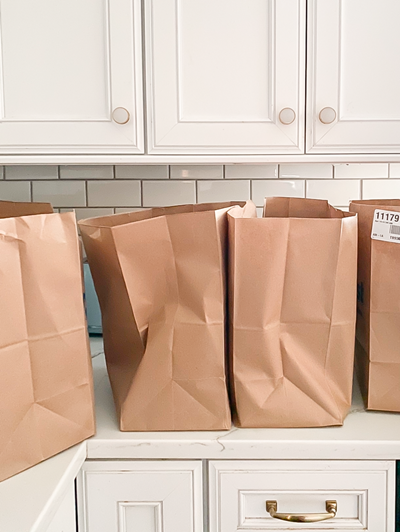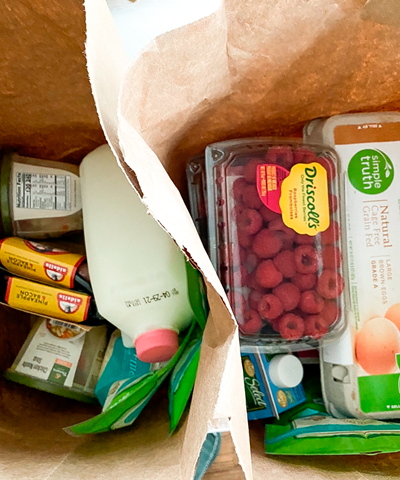 One last little thing that I have really enjoyed lately is buying old library books.  I believe most libraries have small sections where they sell their used books.  At my local library they offer them for $1-5.  Thrift stores are a great place to buy used books.  I can never remember to return library books.  I do think about it.  But hardly ever when I am actually heading out the door.  See this is a book that waited for days (maybe weeks) in my dining room to be returned, then I moved it to the bench by my door where it waited for days before finally making it to the library.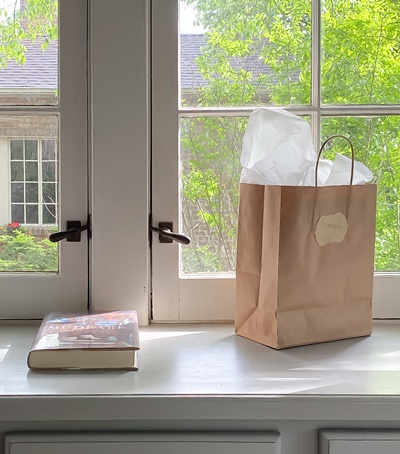 I feel kind of bad about it.  I love the library, and its librarians, I want to respect them with timely returns.  Not to mention I have had some NOT pretty fines. But this detail of life is a struggle for me.  Buying the used books is a perfect solution for me, and the couple of dollars I spend supports the library. I have enjoyed each read that I have found lately, with zero of return dates.  Also I don't typically need to save every novel I read, but it is nice to have on hand to pass it on to friend.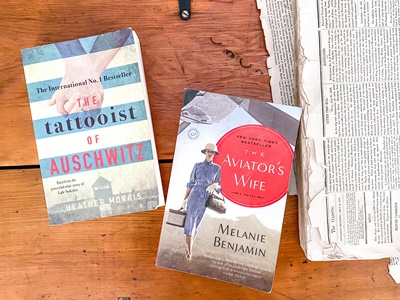 Also these two books were very good.  Both were serious and sad. But they showed the beauty in human resiliency, which for me is such a powerful thing to be exposed to.  I always enjoy when I can learn a little bit of history while reading a novel and both provided that. 
I hope this not decor related post helps you a bit to make room in your days for things that you really want to do.  Please let me know if you have any tips or tricks to stay on top of it all.