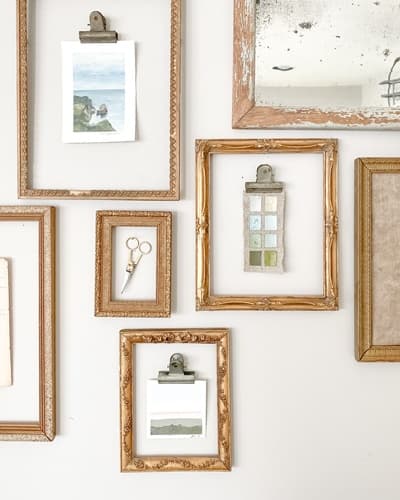 A couple of weeks ago I was tidying my house because I had a couple of close friends coming to lunch.  In the off chance that they wanted a complete house tour, my goal was to get every room presentable.  My house has really missed having company and getting a good full, top to bottom clean.  But inevitably my expectations for a magazine appearing house outweigh my ability and there is total panic in the last minutes leading up to their arrival. Anyway…this is how my gallery wall came to be.  Not in the last moments of panic but during the clean up process.
In a corner of what we call our sunroom is my sewing/studio space.  This sunroom was an addition to our 1920s bungalow probably in the 1980s.  It is very large room and there is enough space for a family room and studio space.  It has a wall of windows, so its our sunroom.  ANYWAY…above my sewing machine I had just hung a mirror and tacked up a grain sack to experiment.  It was not looking good.  I loved both pieces but not displayed like that. Surely I wanted it cuter for company.  I started to wonder about adding more frames, some art that I loved, and framing the grain sack.  Good vintage gold frames are an item when I am out thrifting that is hard for me to pass up.  I love them.  And this proves its true you never know when you might use them. I was able to pick out enough frames from my stash to start a gallery wall.  If you don't have much luck at your local thrift store, Etsy has a selection. Here are a couple examples of a to some nice vintage frames:  link, link,  and linkity link.  If those have sold or don't work, my search for vintage gold frames produced a good selection on the site.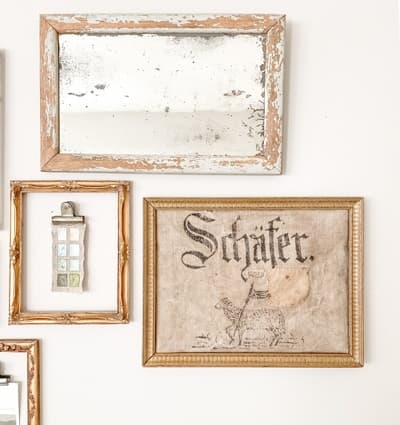 This special grain sack was purchased from the Etsy shop, Objekts1.  The owner, Atta offers the most unique grain sacks.  This one was very special to me because my maiden name is Schaefer, meaning shepard in German.  I love the hand drawn sheep and my genelogy represented.
When I had the frames in hand I started to wonder about how I could use them to frame the paintings.  Then I remembered the vintage clips that I had bought for something else but didn't use, I bought these from my friend's shop, Anthology Home. But again you could buy them…guess where?? ETSY.  Here are some links: here and here.  I really, really love the look.  And I love the practically of the clips.  I was thrilled when the clips worked.  I could finish the project quickly and I have the potential to change the art out any time that I would like. 
I find that I often don't complete many DIY projects that include stopping and starting.  Framing falls into that catergory.  Finding the right size frame, plus the right size matting often ends up being a lot of steps, totally reasonably doable, but for my brain I find if I can just complete something in one feld swoop it happens.  When several steps are involved sometimes frames just sit waiting empty next to the wall they are intended to hang on.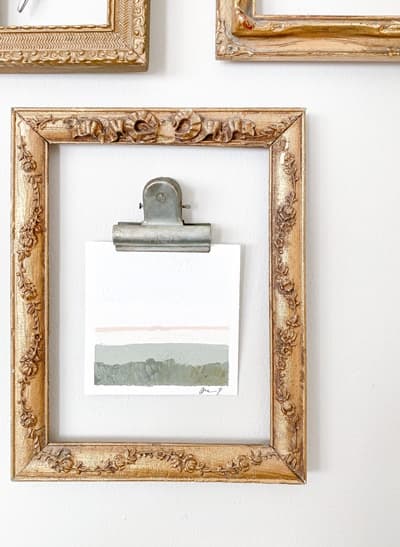 This sweet painting was done by the ultra talented Shaunna Parker.  Even though it is very simple with the use of colors, the way she used texture in this landscape adds such an artisitic element that it fosters imagination.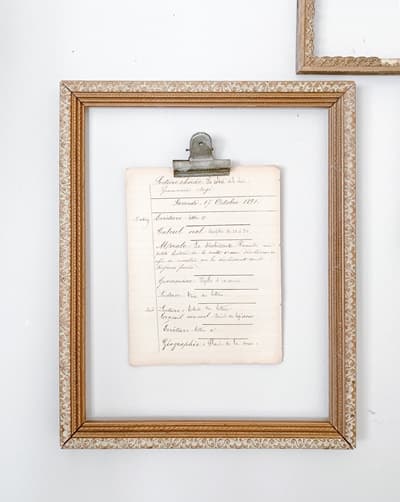 I was happy to find a display for this handwritten antique French list.  I am not sure where in my shopping travels I got this, but I found this shop had many similar items. 
I 100% support planning out a gallery wall carefully with cut outs of wrapping paper in the shape of frames taped to the wall as a guide.  This sets it up for success.  But I didn't do that. I winged it.  I will likely have to fill some nail holes, and I am okay with that.  Also for the exception of the mirror, because I removed the glass the frames were very light, it just took a nail or two to hold them up on the wall.  The clips were also very light just requiring one nail.  I didn't need to find any special hanging equipment.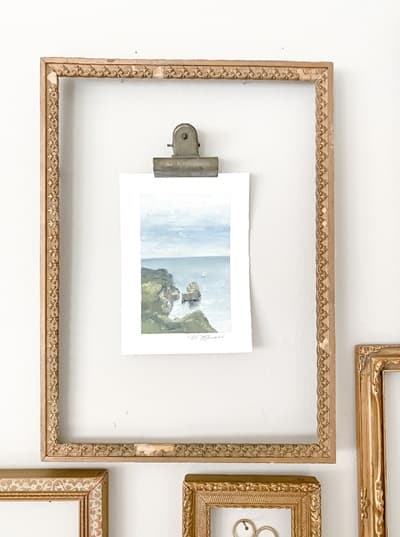 To have a couple pieces of original paintings done by Marian Parson of Miss Mustard Seed is very special to me.  She has long been a source of inspiration to me through her projects, design, and business.  
I am so pleased with the end result.  I really love my sewing corner, there is something about it that makes me feel good, and fosters creativity.  I am very much a visual person, so it means a lot to me to have a visually appealing wall that makes this space even better to create in.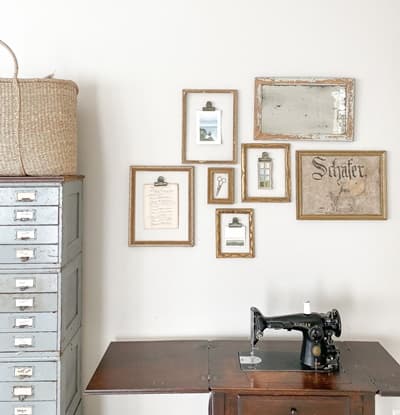 In addition to this gallery wall success with thrifted frames, I have had results that I have been happy with in using them to have pieces professionally framed in them.  I know I am contradicting my above statement on avoiding multiple steps in decorating, in the case of the gallery wall I needed something quick.  I have purchased large prints that I thought the best option was to have them professionally framed.  It is an investment, but worth it in this scenario.  I provided an vintage frame in both cases, and that saved a bundle.  The local compant that I used said that if they had created a frame similiar to these vintage ones it would have cost nearly $1000, I could be over quoting that, but it was shockingly A LOT.  I was very much patting myself on my back for spending $30 to purchase these frames at the thrift. I believe the first one was a mirror and the second an empty frame.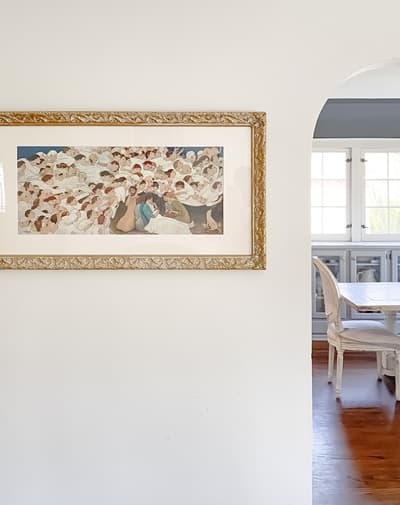 This is a giclee print of the artisit Brian Kershisnik's Nativity.  I really appreciate the way he depicted the feelings, rejoicing, and love that happened on that monumental night.  I am pleased to have it displayed in my home.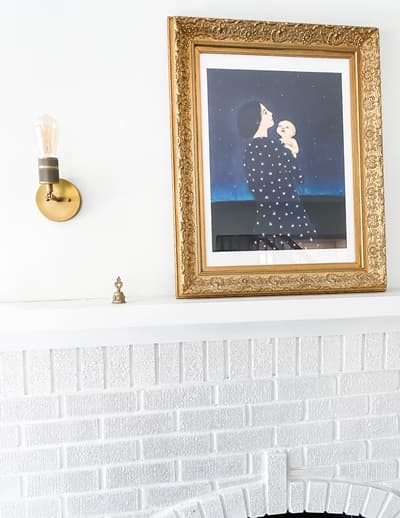 This is another print done by Brian Kershisnik.  I was drawn to it because one of my most vivid memories as a kid was star gazing with my dad.  Also visually it is stunning.
Finally there is this frame.  I love it very much.  It purchased it an antique store for around $60.   It has had many uses.  I have used it as display in my booths when I did decor shows, and also I used it to frame a gallery wall in my old house.  My favorite use for it now is having this backdrop pinned in place and hanging in our house.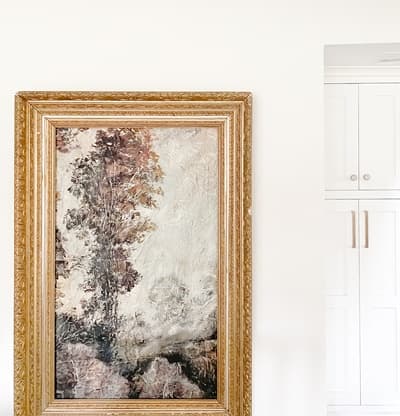 This backdrop is a reproduction that I purchased from the artist Jennifer Lanne.  She offers a variety of these and it is an affordable option to a sizeable piece of art.  And they can be hung without a frame and are just as beautiful.
Never understimate the value of a good frame or not.  There are lots of ways to hang art. I support the idea of no rules when decorating. Don't be afraid to experiment!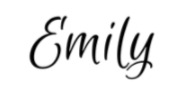 *Disclosure: This post contains affiliate links at no additional cost to you.*