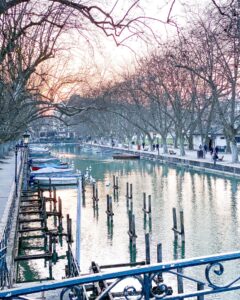 During my big trip to France with my kids, I wanted to add a small town experience.  A friend of mine who always offers the best advice whether it is about dry shampoo, restaurants, where to travel to, or parenting recommended this town.  Through experience she has earned no questions asked when following her recommendations. Even my husband knows it will be good if Toni recommends it.  So when she raved about the French town Annecy, it immediately went on our trip itinerary.  I am so glad I listened.   It is so incredibly WONDERFUL.  It is a town very close to the Swiss border and is a picturesque on a lake surrounded by mountains. I was told this is area is considered the Pre-Alps.   As soon as we left the train station I was hit with the feeling that the quality of life here is what I would imagine it would be if I lived in a snow globe. A charming snow globe.  The air was so clean and the lake was crystal blue.  People seemed to be leisurely enjoying their lives.  I saw families picking up their kids from school, then walking onto the playground on the Lake to meet friends.  And people slowly enjoying cafe meal.   The pace seemed much slower and more enjoyable. It somehow felt so magical that I couldn't believe any worldly problems could exist here, just like living in a snow globe.  It felt so happy.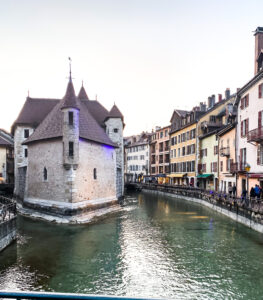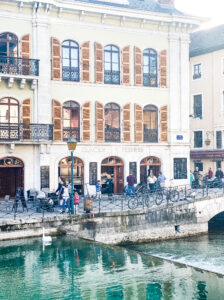 We spent 2 nights in Annecy and enjoyed every minute.  We  just did a lot of wandering, eating, and inspired by the locals took it slow during our two days here.  We sat by the lake a lot and the younger kids played at the park.  I would have liked to bike around the lake, but it didn't happen, hopefully there will be a next time.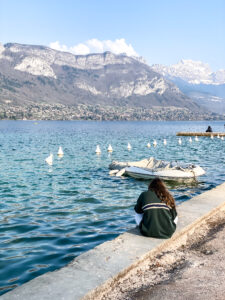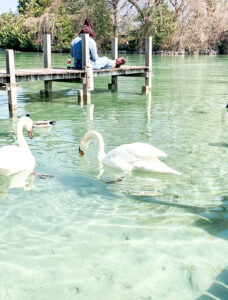 In Annecy we stayed in the center of the old town in a lovely, clean airbnb, with just the right amount of room.  It was just a couple minute walk from the lake and right in the center of all the shops, and only about a 10 minute walk to the train station. I really enjoyed the windows and the views out onto the street, canal, and a restaurant next door.  Not that I spent time starring at people while they ate at the restaurant, but there was something very happy catching glimpses of people enjoying a meal through the kitchen window.  My kids loved the layout with one bedroom with bunk beds, another bedroom with double bed, and then the living room had a fold out sofa that folded out into two twin beds.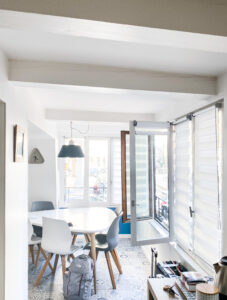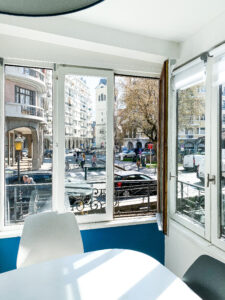 Underneath our apartment there was a Falafel Restaurant, Ali baba.  It was yummy, affordable, and fast.  It was perfect for big lunch to keep everyone happy.  We went three times :).  We also had a couple lovely meals along the canal, where the setting was a perfect compliment to a fresh margherita pizza (a staple for us).  And gelato, they had that too, in so many flavors, SO MANY.  No one ever got a bad flavor.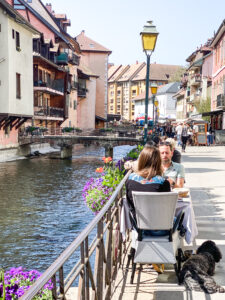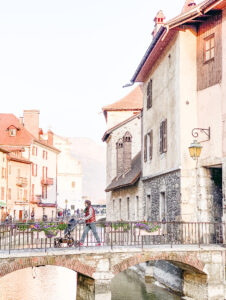 Getting to Annecy from Paris was my most brave endeavor on the trip. I strongly encourage everyone to try the train, I just think you might need to have a bit of a sense of humor about it.  I found that buying  2 day Eurail passes for us was hundreds of dollars cheaper than just buying train tickets for our trip. However, figuring out how to get all the QR codes that I needed was a challenge I hadn't anticipated.  We ended up needing to transfer trains once each way, so we took a total of 4 trains. Some trains needed reservations, some didn't.  Some trains had assigned seating, some did not. It was a lot.  We sat in someone else's seats once.  We also sat in First class instead of Second like our purchased tickets.  And I never had ALL the right QR codes, one for our Eurail pass and one for reservation.  But everyone and every conductor was so kind to me, especially when they saw that I was traveling with 4 kids.  No one was really helpful, because it just didn't seem like anyone really knew how to use the Eurail app.  I was able to present enough information to show that I was fully paid, but it was never exactly what the conductor was looking for.  However they made us feel welcome and we didn't get kicked out of first class.  I would do it again and again, but know was not going to be perfect.  And also it should be noted the time between connecting trains is not very generous, we made it both times but its quick. Make sure you are prepared for a mad dash.  Everything in France seemed to operate at a leisurely pace, EXCEPT catching a train, then it turns to pandemonium.  But again, totally worth it!! Embrace the pandemonium and you will likely have an exciting story to share.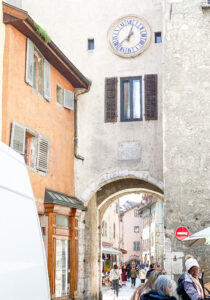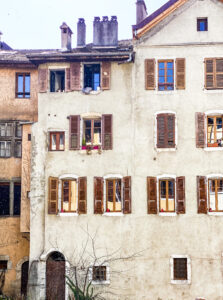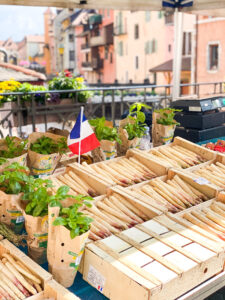 I had really good for me fortune that our stay in Annecy overlapped with the monthly flea market.  As far as I can remember it was purely a coincidence, but who knows maybe I subconsciously lined up our dates to make shopping in the flea market possible, that is highly  likely.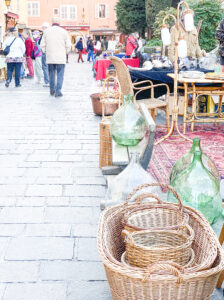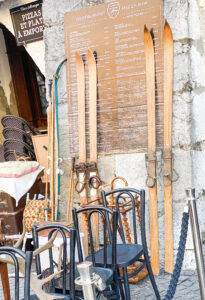 Whatever the case, I sure was happy I was able to shop the flea market.  It was an experience to treasure.  I don't think I will ever get over the charm of the setting AND then to add my favorite pastime of flea market shopping.  It was the best.  I found a lot of good things, and in my opinion the prices were the best that I have shopped in France in comparison to Paris and Provence. I found a couple paintings and dishes.  There was an incredible booth with copper pieces, I had to bring something home from there.  I ended up purchasing a stunning large pitcher, the copper with its large scale got me.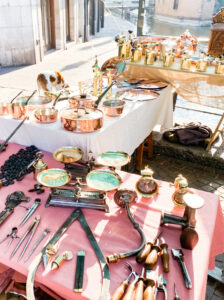 I felt like I hit the jackpot with linens.  There was one booth that was fully stocked with beautiful, clean sheets, tea towels, and handkerchiefs. I was in heaven.  And I admired all the antique furniture pieces and dreamt about having an apartment there to furnish.  I highly recommend this market.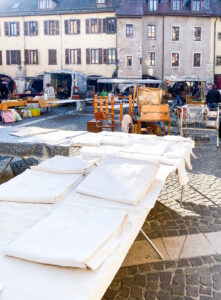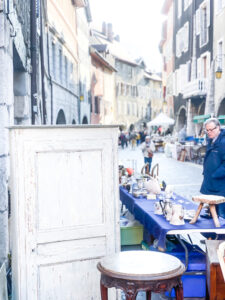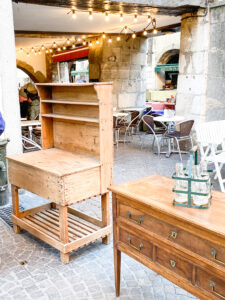 Annecy is very special and I am so glad I got to experience it. I hope to be back.  My kids loved it too.  This is a spot that I think any and all ages would enjoy.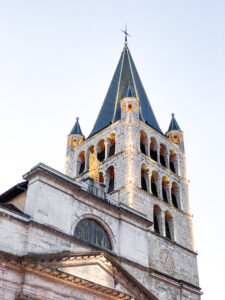 If you would like to know more about our travels to Paris you can find it in this post.
Merci beaucoup,