Hello!! It has been a while since I have restocked my online shop.  I took some time off for my family and then I was dealing with a broken sewing machine.  Such is life.  Anyway, the day is TODAY.  Purchasing can begin at 7 pm CENTRAL STANDARD TIME (time zone are confusing).  It is absolutely not my favorite to offer one of kind goods in a panic shopping setting, I hate when customers miss out.  I have been there before as a customer, the thrill can be exciting, but it is disappointing if you don't get what you had your eye on.  But a timed release is the best I can do to offer everyone a fair shot.  I ALWAYS, ALWAYS extend to offer to make something similar just for you if you miss out. Without further adieu…the products:
BELT BAGS
I have been noticing these cute belt bags that are quite popular nowadays.  I found one online from one of my favorite retailers and was about to buy it when I realized it didn't have a pocket that had a zipper on it.  I really wanted that to hold important things tight.  It got my wheels turning and I thought I would give it go at making them.  It took some trial and error.  But I am quite pleased with the end result.  I will be offering these 5 belt bags during the sale, each comes with an extra belt just in case its needed.  They can be worn around the waist or slung over the shoulder.  They are perfectly imperfect handmade items that are practical.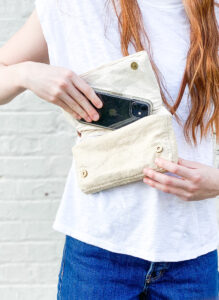 REVERSIBLE FRENCH GRAIN SACK PILLOW SLIP
I purchased a French grain sack from one of my favorite Etsy shops, French Vintage Retro.  I love a long lumbar pillow with writing, so that was always my plan with the sack.  When I opened it up I found that there was writing on both sides.  I didn't want to waste an opportunity to use both sides so I made the pillow slips reversible.  And I was able to get two pillows out of the sack.  They have  an envelope closure in the back.  The fabric of the grain sack is a bit coarser, the texture is  somewhere between linen and burlap.  But it is not burlap, just coarser linen.  I wouldn't want to take a nap on it, but it is great for decor.  This pillow slip is sold without the insert to offer affordable shipping.  For the insert I just a king size pillow and smash it in there.  It does take a bit of elbow grease and maneuvering, but in the end you have a lovely plump pillow.  The slips measures approximately 35 by 16 inches.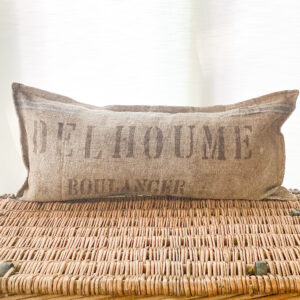 LONG GRAIN SACK LUMBAR PILLOW SLIPS
I am loving a long lumbar pillow.  My talented friend, Jenni Yolo, of I spy diy has used several of my lumbar pillows for her room makeovers, and if she likes them, then I must make more…these grain sack lumbar pillow slips are approximately 16 by 35 inches.  Again, I use a king size pillow insert with a little bit of a workout I stuff it into the slip.  These are offered without the insert to save on shipping costs.
SQUARE GRAIN SACK PILLOW SLIPS
I loved that I got to work with these beautiful grain sack fabrics.  The caramel colored grain sack is the same fabric I used for the recent sofa redo.  It makes me happy.  And the navy striped grain sack is so unique with the varying thickness of stripes.  The backs are modern linen with a button closure.  There are two of each offered and they are all approximately 17 inches square.  I recommend a 18 inch pillow insert for them.
FRENCH TOILE PILLOW SLIPS
I love charming French toile.  I especially love the toile that has country scenes of average people.  The detail is incredible and tells a story.  It makes me happy to see these pictures of families depicted in ways in which I interact with my family and these were created decades and decades ago.  I love the normalcy of it, but it is also fairytale like too.  Anyway…I got my hands enough toile to make 3 pillow slips for this sale.  Some I purchased in France at the flea market and some off Etsy.
VINTAGE RUG PILLOW SLIPS
I purchased a beautiful vintage rug from a local seller.  I love the tones of the color and designs of it.  I thought using the rug to make pillow slips out it would create a special design element that could be used in more ways than just as a rug on the floor.  I believe this a wool rug so its not cuddly, but it definitely works for a throw pillow.  These square pillow slips measure about 19 inches and the back is modern day linen with a button closure.
FRENCH VALANCE PILLOW SLIPS
I found this buffalo check fabric that was a remnant of a vintage French valance while I was perusing Etsy.  I love a scalloped edge.  I think these pillow slip turned out cute with a bottom of handwoven hemp linen and back of coordinating modern day linen.  They measure approximately 16 inches square.
VINTAGE COVERLET PILLOW SLIPS
These blue vintage coverlets have always caught my attention.  When I found one while shopping a flea market, it was a quick sale.  This coverlet has lived a life.  It has some imperfections from wear, I reinforced these and patched some spots.  But it still is so lovely.  I love the deep navy blue.  I also love repaired fabric, it's a sign it was worth the effort.  The slips measure about 19 inches square.
NEEDLE POINT TOTE BAGS
Needlepoint is so charming and the amount of work that goes into  is something to celebrate.  These two pieces really caught my eye.  The detail of the woman in the needlepoint is incredible and I love the feeling that the lake cottage scene gives me.  The lady tote was finished off with vintage European hemp linen, while the cottage scene is complimented with vintage striped French linen.  The interior of both is hand-woven hemp linen.
GERMAN GRAIN SACK TOTES
Tote bags are useful and I like it when they are cute.  I used a well loved, rustic German grain sack to create two tote bags.  This fabric is really soft and I love the movement of it. It does have patches, repairs, and some stains, all signs that the fabric  been loved and appreciated.  It also takes the pressure off of keeping it super clean :).
HAND PURSES
Here is the latest round of small hand purses that will be listed.  I love them all.  I especially love the scene of the Shepard with a church in the back ground.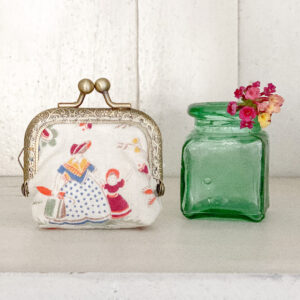 Just a small reminder that, unfortunately none of the prices include shipping.  Thank you for stopping by!!