It is ALMOST holiday sale time.  Just a couple more hours…purchasing begins at 7 pm Central Standard Time.   I really love creating these pieces with vintage fabrics, I am pleased with how they have turned out, and I am really hoping they bring cheer to a lot of homes.  If you miss out on an item, I can likely make one similar for you, just reach out.  Although there are a couple exceptions in which I don't have anymore similar fabric.
A couple years ago,  I tried out sewing some tiny stockings, they have turned into my most favorite product to sew. I love that some small pieces of old fabric can still be enjoyed in a stocking even if its just the smallest of  remnants.  I love adding details to each one and then coordinating them into a set.  They are somewhat labor intensive, but making them is a very joyful for me :).  This round of stockings, for the first time I created stockings with some pieces of vintage wool coverlets.  I love the texture and pattern of the material.  I added in some sets with blue and red grain sack and vintage fabrics.  The price of the sets are $45 for a 3, $85 for 6, $165 for 12, and $335 for 25.  The tiny stockings are each about 2 inches wide and 5-7 inches long.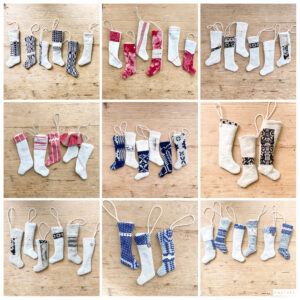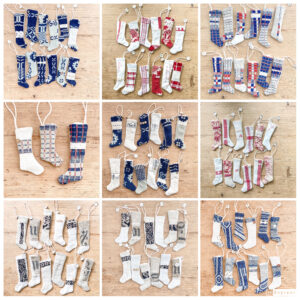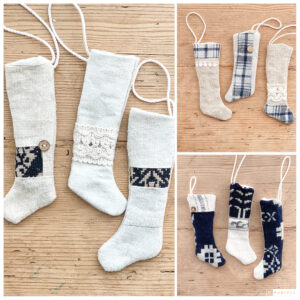 One of my favorite sets, is this large one that was made with vintage French fabric that had a variety of countryside images.  This one has 25 tiny stockings and can be used as an advent calendar.  This is fabric that I no longer have any more of, although I hope to get my hands on something similar soon, I can't make any promises that I would be able to recreate something similar to this: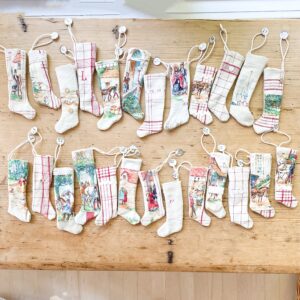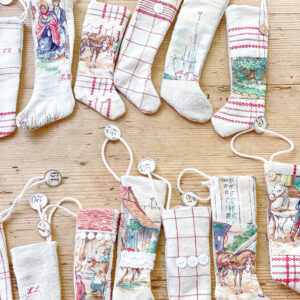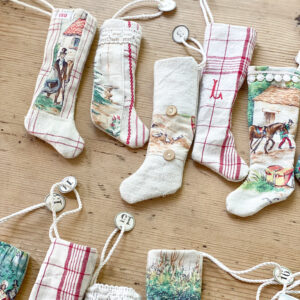 For bigger stockings, I tried using the vintage coverlets again.  The patterns and color of the this fabric is very lovely.  They are each about 17.5 inches long and $59 a piece.  There are couple stockings of the same size thrown into the collage that were made from vintage French fabric that I purchased in Paris.  I also love the tones of the red/pink and think they are perfect pop of color for the holiday.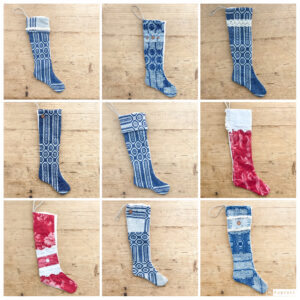 This year, I purchased some grain sacks from a new Etsy shop.  The calligraphy is something remarkable.  I have been saving them for months to use a large stockings (measuring 20-22 inches long) and a tree skirt.  Each stocking is $125.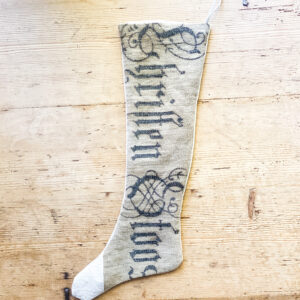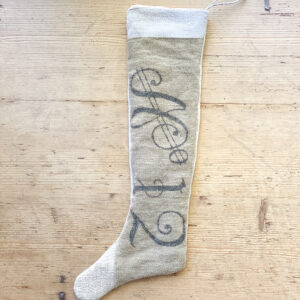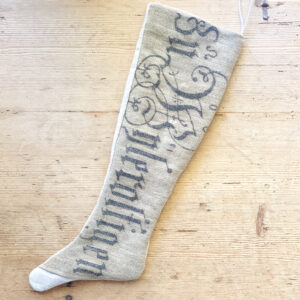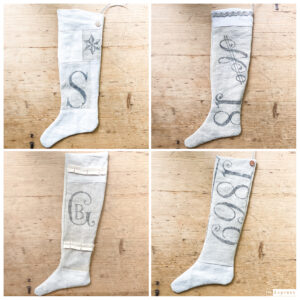 The writing and the depiction of the horse that is used in the tree skirt is very unique.  I believe the writing is some form of CHRIST, I loved that.  It was a pleasure working with this fabric. I used remnants of other grain sacks to complete this tree skirt that measures approximately 54 inches across.  The price for this piece is $425.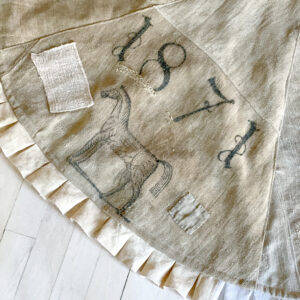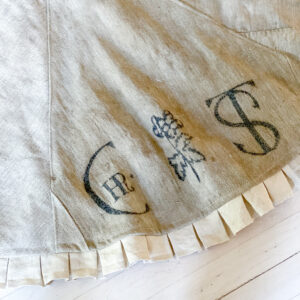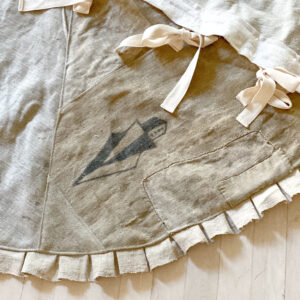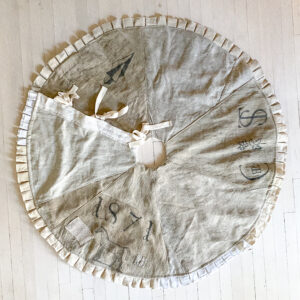 Finally I added a variety of pillow slips to the sale.  A couple have a gold zipper closure on the side, a new detail that compliments the fabric.  The price for these range from $49-109.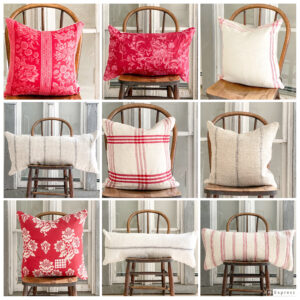 Thank you for stopping by!! Please reach out if you have any questions, pennyandivydecor@gmail.com.
–