My most recent and one of my favorite makeovers (I should look back, do I say this about every project? But every project does have a bit of my heart, but I really, really love this one), was of this vintage sofa.  I spotted this sofa at an estate sale in my neighborhood.  I wouldn't say that it was love at first sight, but I saw its potential, and thought it would be a reasonably strait forward makeover.  I liked the idea that there wasn't a lot of reupholstering that needed to be done to the structure other than the base, although there would be a lot of sewing to replace the fabric on the cushions.  Anyway, it was good option, I just thought I would let fate decide.  This estate sale allowed for bids to be placed, so  I placed an offer for a 50% price if it didn't sell by the end of the first day of the sale. I got it, obviously  :).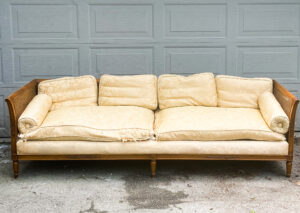 At first I thought I would redo the sofa with German grain sacks with writing, but somewhere along the way, I fell in love with the idea of using grain sack fabric with caramel colored stripes.  This is not a color that I have worked with often or at all except for making a couple pillows for a client.  And now I am hooked. I bought two 4 1/2 yard rolls of this grain sack fabric for one of my go to shops, Grain Sack.   This lovely shop gave me a coupon code for 10 percent off for my readers, it is good through 7/1/2022. The code is: PENNYANDIVY10. I have bought from this shop since 2016, they have hundreds of high quality options of vintage handwoven hemp linen fabrics.  I have loved every order and they always arrive clean and nicely packaged.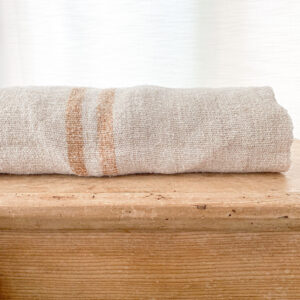 This fabric made me so excited about the project.  I loved the tone of the caramel color, and the nubby weave of the fabric.  Even with the 9 yards of it, there was not enough for the sofa, so I had to find enough of similar toned hemp linen to piece together to get this project started. Piecing together fabric is usually the only option when using vintage fabrics due to the finite supply.  Fortunately I love the look, it feels cozy and homey to me.
Before I got into the sewing part, I knew I wanted to redo the dated look of the wood.  It did cross my mind that maybe I could strip the wood, there are lots of beautiful projects lately of stripped wood circulating around the internet.  But I recently tried stripping the finish off a pair of dressers and let me tell you it is not for the faint of heart, it is really messy and takes A LOT of time.  I did develop a system and am not totally scared off of trying to strip furniture again, however I wanted a break.  I was also worried about damaging the caning on the sofa during the stripping process, so painting it was THE decision.
I chose one of my favorite paints, Miss Mustard Seed Milk Paint, Schloss.  It is the perfect warm griege that compliments the oatmeal color of the linen. Before painting I cleaned the wood, and lightly sanded it.  The finish on the sofa was very shiny, milk paint has trouble adhering to a nonporous surface, so I added its milk grip bonding agent.  It worked like a charm, there was still some chipping, but just the right amount.  If you want a lot of chipping, you can apply the milk paint without the bonding agent to a nonporous finish, and that is likely what you will get, although there are no promises.  This paint has a bit of  a mind of its own, but I am almost always happy with the end product and love what it does.  I did two coats of milk paint and lightly sanded it.  To seal the paint I used the General Finishes Flat Out Topcoat.  This is an easy to use water based top coat that doesn't add any sheen. I did 3 coats of the this just make sure the durability was strong and present, and that is what the instructions on the can advised :).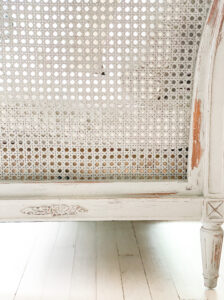 My next part to attack was getting the cushions in working order.  These were something.  This sofa was incredibly sturdy and made with super high quality everything, except the seat cushions.  The seat cushions were a thin down envelope with springs in them.  It was a terrible choice of ingredients to make a cushion in my opinion.  There was a thin foam layer  that was used to either hold the springs in place or add cushion.  Either way, the foam was disintegrating and the springs were a mess.  And there was burlap mixed in too.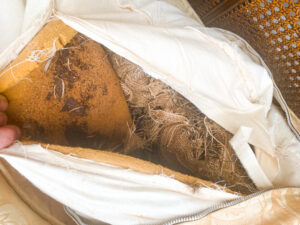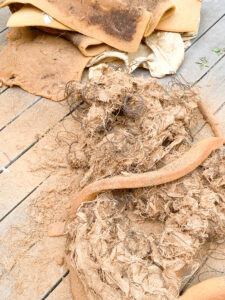 I removed that train wreck and was left with a thin envelope of down.  This was in great condition, and all the feathers were IN the fabric, which is huge.  Chasing feathers is not my favorite.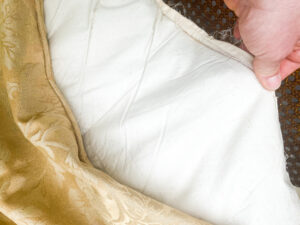 I used this technique that I described in this post to replace the springs with 3 inch foam and still using the down envelope.  I finished up by wrapping the cushion in  two-three layers of dacron to make a full cushion.  I was very pleased with these cushions and the quality of the felt very comfortable.  Thankfully the back smaller cushions for the back were in great condition and were all down filled.  No springs.  I did wrap these with dacron to make them full also.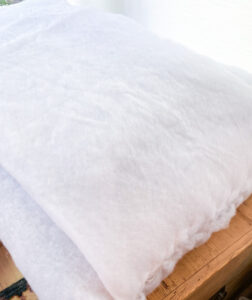 Now the cushions needed new covers.  I made them using this technique in this post.  Although I did not need to make a pattern for the cushions, I just measure the fabric from the original cushion and since they were rectangles I followed those measurements.  I did not measure the original cushions because they were not full and not in good condition.  But the fabric was and gave me accurate measurements.   I made six cushion covers.  It took awhile.  But it was worth it.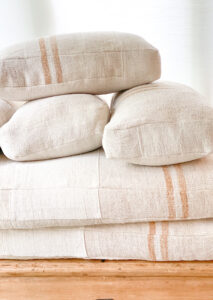 All that was left was reupholstering the seat base.  At this point I realized I unscrew the base and remove it to reupholster it.  I wished I had realized this when I had painted it.  I need to do a little painting to cover the missed spots.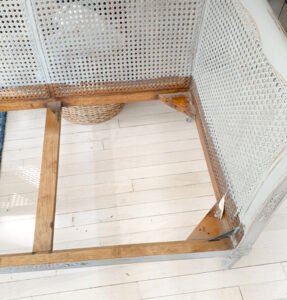 Anyway, having it removed I was able to wrap the base almost like a present.  But first in ordered to get a piece of fabric that size, I used some natural duck canvas pieced together with the hemp linen.  The canvas is not seen because the cushions will cover it, and if someone does get a peek of it then its somewhat similar color to the hemp linen, and it is durable fabric.  I whipped stitched the under side of the seams of the new fabric to the old fabric (the old fabric was in good condition, so no need to remove since I would be covering it entirely). You can see how I did this during this makeover post.  Then I wrapped the fabric around the corners like you would wrap a present and stapled the fabric in place in the underside.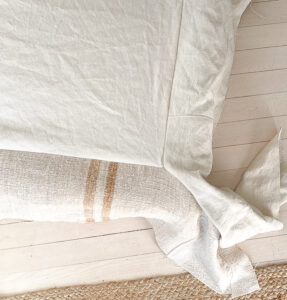 I replaced this bottom and screwed it into place.  I did notice about an 1/8 inch gap under this bottom and the wood.  I corrected it by adding  a 1/4 inch piece of cording wrapped in hemp linen and sewn in place using a zipper foot.  Taking this cording I glued in place with a hot glue gun with the seam in the back.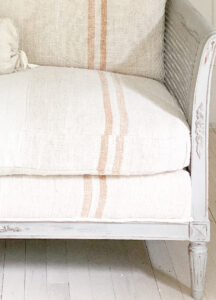 I love how this sofa turned out. I love how comfortable and sturdy it is.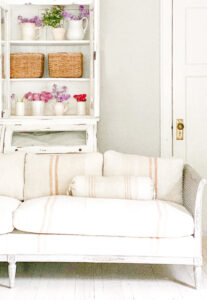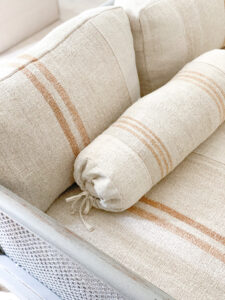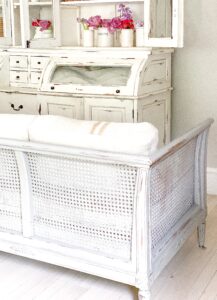 I love that it is 94 inches looong. I love that it is unique but somewhat versatile in its style.  I went through my stash of fabrics and tried out a variety of different styles of pillows and I think that they all work.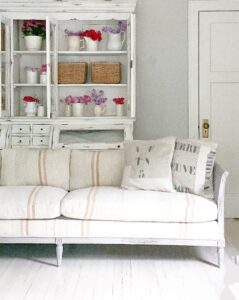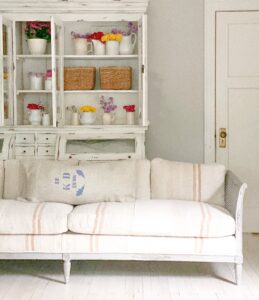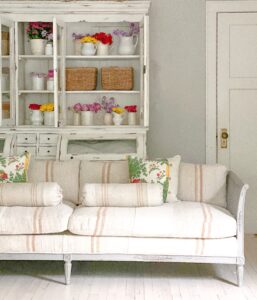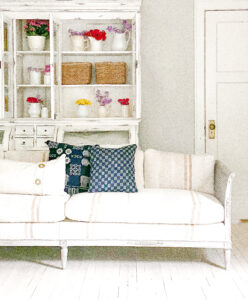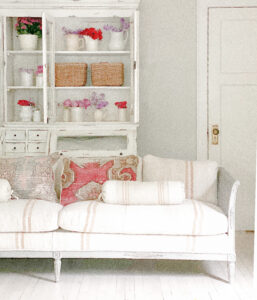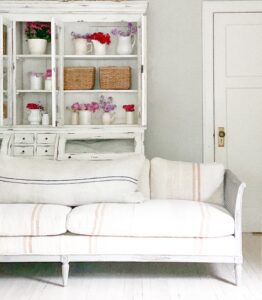 This sofa is currently for sale the charming shop, Anthology Home, in Waukesha. It is such a sweet reward to see the end result in this beautiful space after a couple of weeks of working on it.